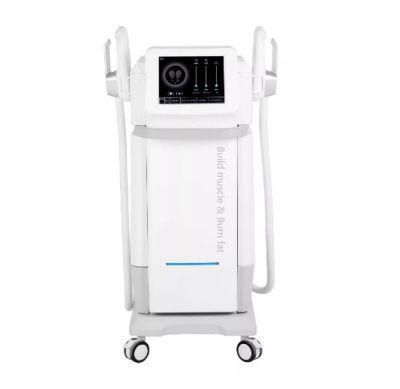 Sincoheren Non-Invasive Body Shaping High Intensity Electromagnetic Muscle Trainer Machine
Beijing Oriental Wison Technology Co., Limited
Type:Slimming Machine
Theory:High Energy Focused Electromagnetic Wave
Application:Salon
Portable:Non Portable
Model Number:Fmst-1
Certification:CE, ISO13485, ISO9001
Model NO.:FMST-1
Feature:Weight Loss, Muscle Building
After-Sales Service:Online Support, Training ,Maintenance
Warranty:1 Year and Lifetime Maintenance
Product Name:EMS Slim Beauty
Keywords:Loss Weight Muscle Building Machine
Handles:2 Handles
Technology:High-Intensity Electromagnetic Muscle Trainer
Max Power:200W
Muscle Contractions(30 Minutes):More Than 20,000times
Output Frequency:27.12 MHz
Work Mode:5 Modes
Package Size:71*61*112cm
Transport Package:Standard Protective Package
Specification:CE, ISO
Trademark:Sincoheren
Origin:Beijing
Production Capacity:5000 Pieces,Years
Screen
10.4'' Color Touch Screen
Technology
HI-EMT
Maximum Ourtput Energy Intensity
13.46 Tesla
Power
2.3KVA
Cooling system
Water cooling
Pulse
300us
Package Size
71*61*112cm
Weight
65kg
Function
Body Shaping, Muscle Building, buttocks lifting, abdomen sculpting, thighs shaping
Product Description
2020 Newest desgin FEMScuplt Body slimming High Intensity Pulsed Electromagnetic (HIPEM) technology for body slimming, firming and fat burning. Professional device for beauty salons and physicians who want to offer their clients the most up to date and effective non-invasive body contouring treatments.
FEMScuplt Body slimming builds muscle and burns fat at the same time. Electromagnetic pulses induce supramaximal muscle contractions which force muscle tissue to adapt, leading to an increase in muscle growth while burning fat though lipolysis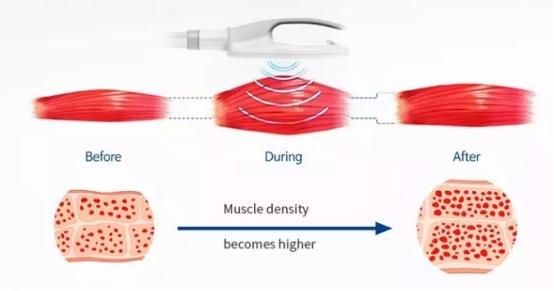 How FEMScuplt Body Slimming & Muscle Lifting Works?
Using High Energy Focused Electromagnetic Wave technology to continuously expand and contract autologous muscles and carry out extreme training to deeply reshape the internal structure of the muscle,that is, the growth of muscle fibrils (muscle enlargement) and produce new protein chains and muscle fibers (muscle hyperplasia), so as to train and increase muscle density and volume.
The 100% extreme muscle contraction of core technology can trigger a large amount of fat decomposition,Fatty acids are broken down from triglycerides and accumulated in fat cells.The concentrations of fatty acids are too high ,causing the fat cells to apoptosis, which is excreted by the body's normal metabolism within a few weeks. Therefore, slim beauty machine can strengthen
and increase muscle, and reduce fat at the same time.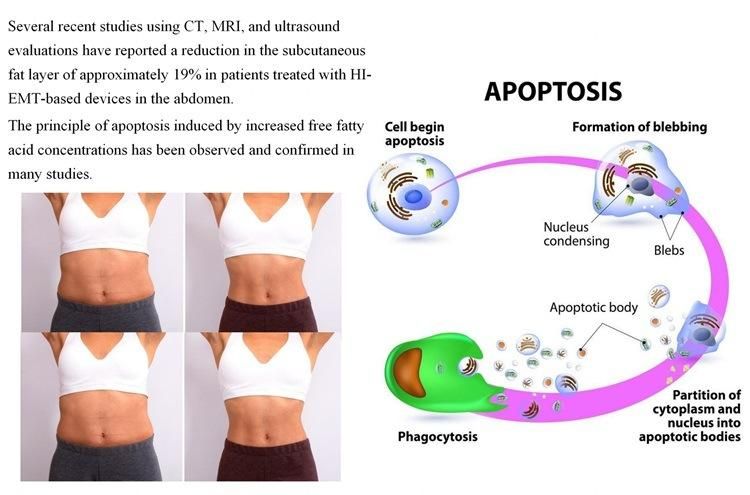 Safe and Comfortable Treatment
Using High-Intensity Pulsed Electromagnetic Technology, it likes doing 20,000 crunches or squats in just 30 minutes without the hard work and sweat 30-Minute Treatments Treatments are quick and can be performed during a lunch break. Clinically Proven Fully tested in 7 independent studies for safety and effectiveness.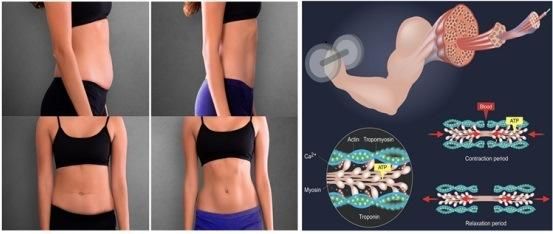 Clinic Advantage
* Offer your clients the latest in cutting edge body contouring treatment technology
* Just turn on and let the system do the work for you
* Simple and easy to use operation
* Zero consumables
* Non-invasive, no downtime, no side effects and pain free
* Recommended treatment cost $800 (single visit)
* Comes with 2 applicators, allowing treatments for stomach, buttocks, arms and thighs
Application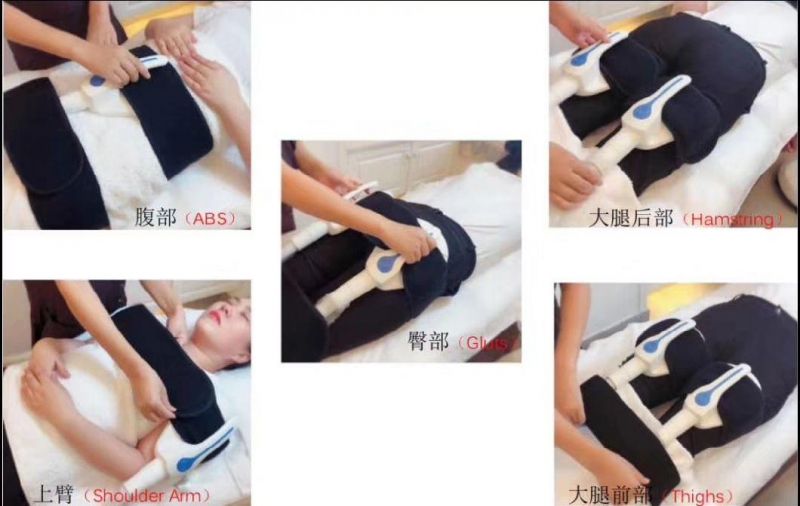 Features & Advantages
* Builds muscle & Burns fat Together!
* Non-invasive buttock lifting procedure
* Suitable for everyone - No anaesthesia - No surgery
* Only a 30 minute walk in walk out procedure
* Only 4 session needed 2-3 days apart
* Feels like an intensive workout
* Safe with No downtime
* Instant results but gets better after two to four weeks
* 16% average increase in muscle mass
* 19% on average fat reduction
Clients Feedback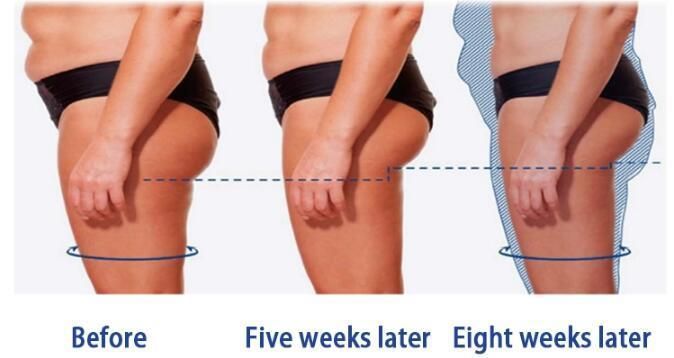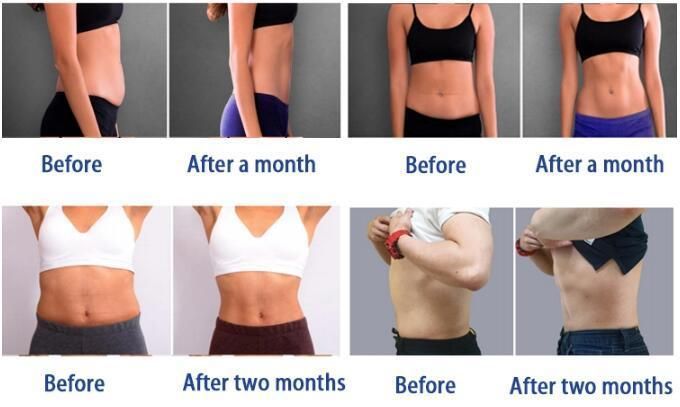 Company Profile
Established in 1999, Beijing Sincoheren S & T Development Co., Ltd. is one of the leading manufactuers of professional advanced beauty equipments and medical devices. Our products are widely used in cosmetics, aesthetics and dermatology fields.
Having our own R&D, Sincoheren supplies also the OEM service and helps you to build up your good reputation and to be more competitive in the market. The production is under ISO13485, ISO9001 Quality system and match with CE certification.
It is our desire to have the pleasure of satisfying our distributors and clients with our high quality products and professional services. We always welcome your cooperation.
FAQ
Q: Who is suitable for slim beauty machine?
A: This technique can provide beneficial muscle tightening for most people. Only pregnant and lactating women should not be treated;For women who are close to menstruation, if they receive treatment, menstruation may come earlier or they may experience stronger abdominal cramps. Therefore, we recommend that they avoid treatment during this period.If the body is under the following conditions, people cannot receive treatment: metal or electronic implants at the treatment site, pacemaker implantation, defibrillator implantation, neurostimulator implantation, drug pump implantation, malignant Swelling, epilepsy, recent surgery.
Q: Which parts of the body can be used slim beauty machine ?
A:It can improve the muscle lines of buttocks and abdomen, and also help to promote fatmetabolism. The most suitable parts are: abdomen, buttock, triceps.
Q: What do users need to prepare for using the slim beauty machine ?
A: It's recommended that users wear comfortable clothes so that they can position themselves flexibly in the process.
Q: Does it hurt ?
A: The program itself is painless. There is no need for anesthesia. Just lie down and use two panels at the same time to apply high-intensity focused electromagnetic energy. The feeling during treatment is best compared to your muscle feeling during intense exercise.
Q: Does it safe ?
A: It has obtained the dual safety and effectiveness certification of CE, and the process is painless and non-invasive.
Q: How long will you see the effect after the treatment? ?
A: some users found that the abdominal muscle line had improved one day after the treatment. To achieve the effect of breaking down fat and increasing muscle, 4 treatments were needed. The best effect is 2-4 weeks after the course of treatment. After the treatment, it can reduce fat by 19% and increase muscle by 16%.
Q: How long can the effect last ?
A: Do 4 times, the effect can be up to six months. But some people may need additional treatments for best results. If you take the course every 2-3 months, you can better maintain the optimal state.