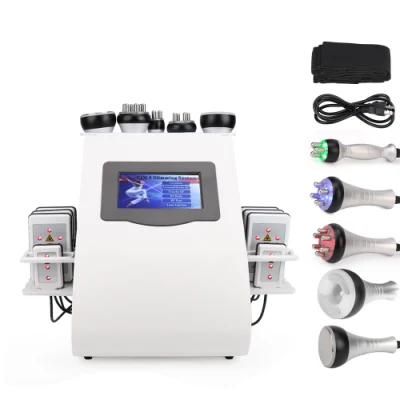 Wholesale Beauty Equipment 6 in 1 40K Weight Loss Ultrasonic Cavitation Laser Liposuction Body Slimming Machine
Guangzhou Konmison Electronic Technology Co., Ltd.
Type:Slimming Machine
Theory:40K Cavitation + RF + LED + Vacuum RF + Lipo Laser
Application:Salon
Portable:Portable
Product Name:6 in 1 Cavitation Lipo Laser Slimming Machine
Rated Voltage:AC220V 50Hz
Model NO.:JF679
Handle Quantity:5PCS
Laser Plate Quantity:8PCS (2 Small Ones + 6 Big Ones)
Mains Output:100va
Laser Wavelength:635-650nm
Ultrasound Frequency:40kHz
RF Frequency:1MHz
Operation Mode:Continuous
Cooling System:Air Cooling
Package Size:47*38*44cm
Package Weight:About 10.5kg
Transport Package:Carton
Trademark:Konmison,OEM
Origin:Guangzhou
HS Code:8543709990
Production Capacity:3000PCS,Month
About 10.5kg
Working Principle
1.1 MHz RF:

Exhaust the integrated glycerol and free fatty acids through hepatoenteral circulation.


2.40K Cavitation:

Emitted to vibrate fat cells at top speed to promote cells motivation so as to reduce fat.


3.Vacuum RF:

Focus the RF energy on a specific area to reduce fat, accelerate metabolism, relieve muscle fatigue, and tighten the skin by delivering thermal energy and by suction massage.


4.Lipo Laser:

Break down the stored triglycerides into free fatty acids, glycerol and water molecules to be expelled out of body.


5.LED light therapy:

3 types of LED light of different wavelengths (red, green, blue) combined with RF penetrates skin layers of different depths, accelerating metabolism, regeneration of cells and collagen to solve different skin problems and realize skin rejuvenation.
Product Structure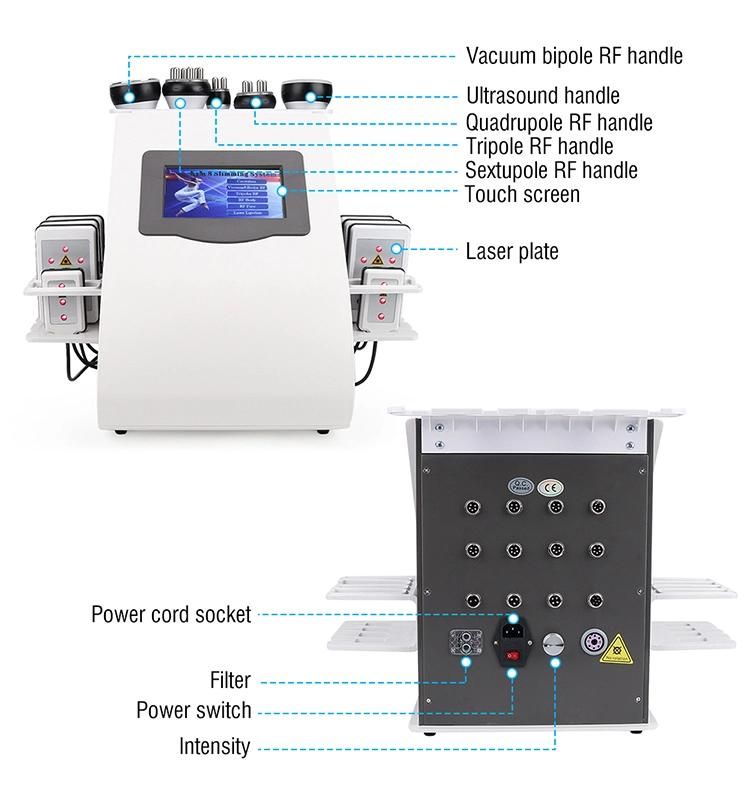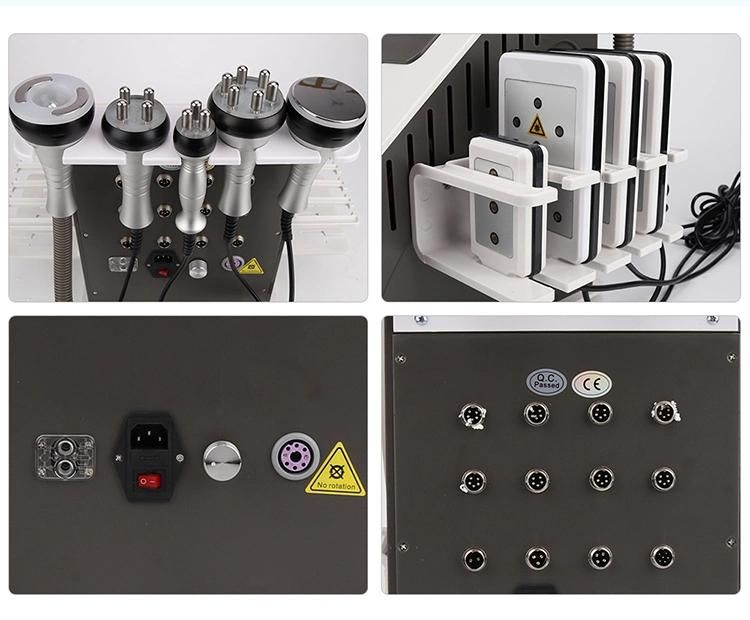 Product Features
1.5 technologies in 1 -- RF + LED, 40K Cavitation, Vacuum RF, Lipo Laser.
2.3 RF handles -- Rripole, quadrupole, sextupole for precise treatment on face and different body parts.
3.3-color LED light -- Red, blue and green combined with RF handles.
4.8 laser plates -- 6 big ones + 2 small ones.
5.Adjustable intensity -- Meeting individual tolerance and needs.
6.Multi-functions -- Slimming & tightening effects on face & body.
7.Safe & non-invasive -- No pain, no radiation, no side effects.
8.Touch screen -- Easy & convenient to operate under clear guidance.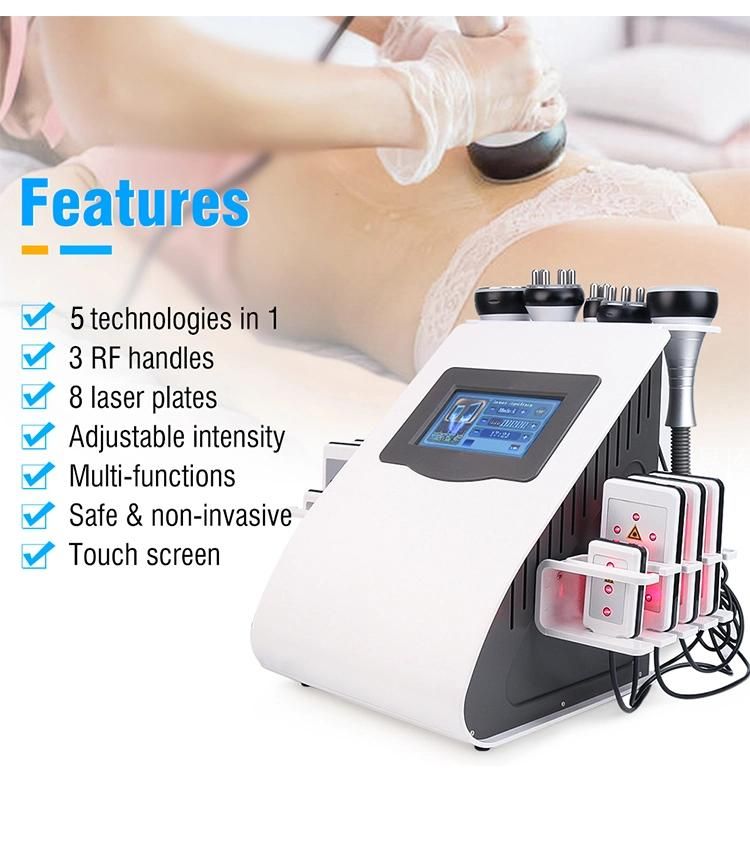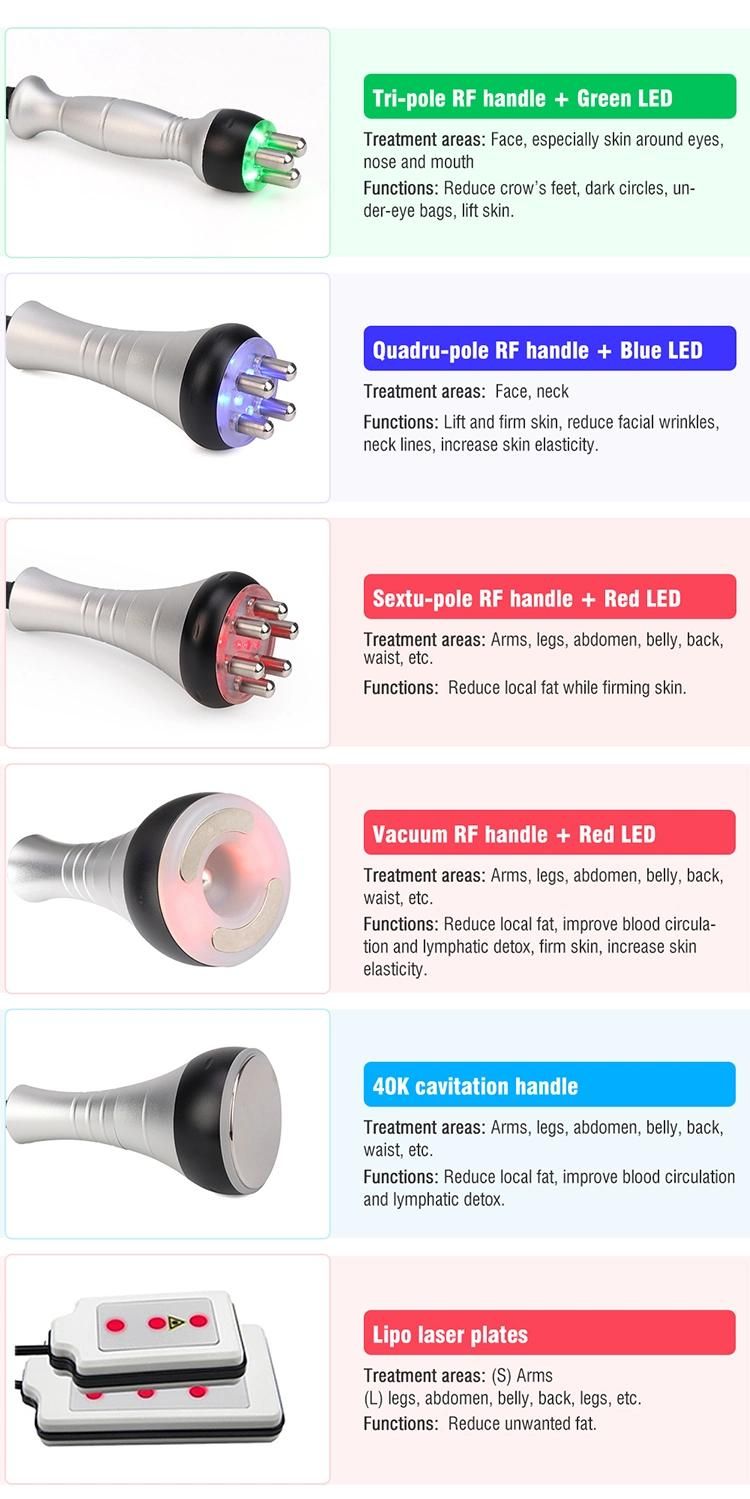 Main Functions
Body
-- Reduce fat
-- Tighten skin
-- Relax muscle
-- Lymphatic drainage
-- Accelerate blood circulation
-- Improve absorption of skin care products

Face
-- Anti-aging
-- Lift skin
-- Tighten skin
-- Rejuvenate skin
-- Remove wrinkles
-- Improve skin elasticity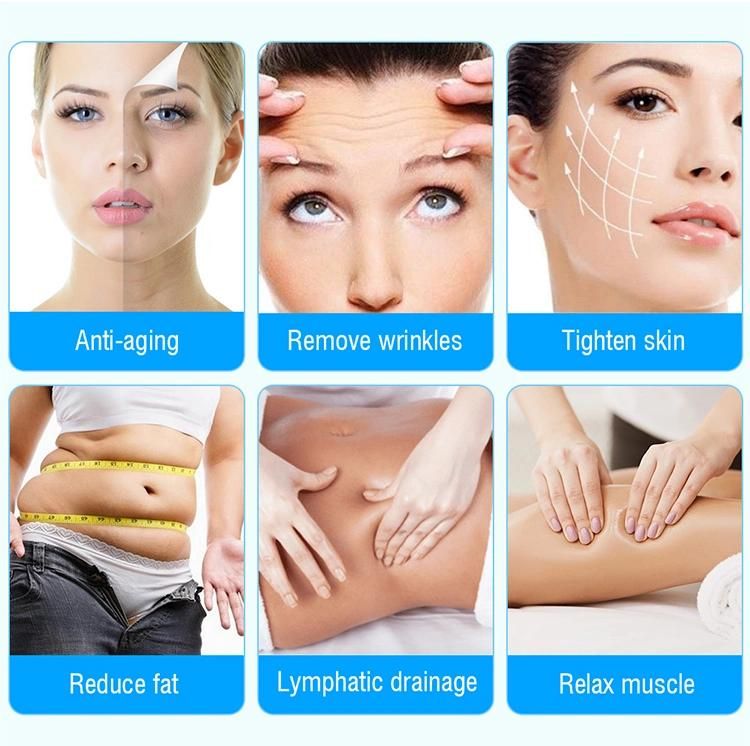 Before & After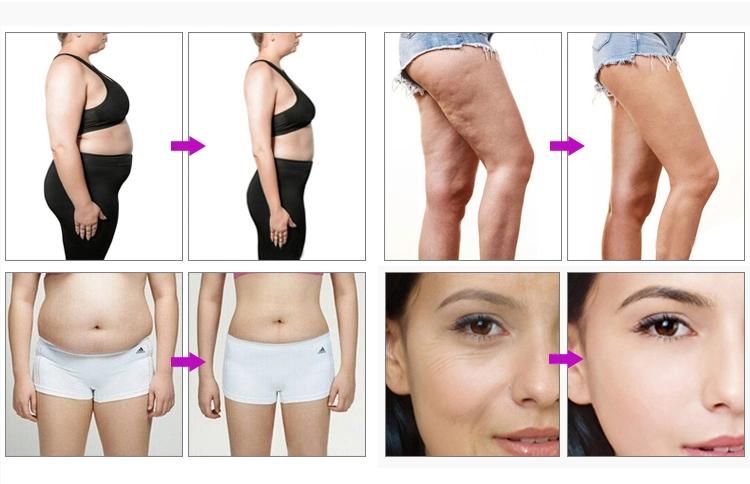 Product Display